This book I wrote under unusual circumstances. In the spring of 2006, I was helping to renovate an apartment in Louisville when, one Thursday afternoon, I got a telephone call offering me a job I had applied for, to start a week from the following Monday. I needed that job. So, after spending a day or two making notes, I began writing, and by that Monday had finished the first draft of All That Money. Whew! For a moment there I thought I was Georges Simenon! But as usual the time it took to rewrite it undid any seeming time savings in writing at such speed.
It is based on an event, now forgotten, that was a national sensation in its day: the 1933 Louisville, Kentucky "kidnaping" of Alice Speed Stoll, a young married woman, heiress to a prominent family.
Unfortunately, no book has ever been written about her kidnaping. My research therefore was restricted to digging up contemporary newspaper accounts, in the Louisville newspapers and in The New York Times, which published more than 100 stories about it. I wanted to read the transcripts of the trial of the man convicted in the case, but the local Federal courthouse could not locate them.
One result is that I missed the fact that the convicted "kidnapper" ultimately was released from prison and died a free man. His case is legally notable because, having agreed under duress to a plea deal imprisoning him for life, he later successfully appealed for a trial, but at that trial was convicted and sentenced to death, and actually came within 24 hours of his date with the electric chair. After his sentence was commuted to life imprisonment, the law was changed to insure that, in future, an appeal of a sentence could not lead to a worse one.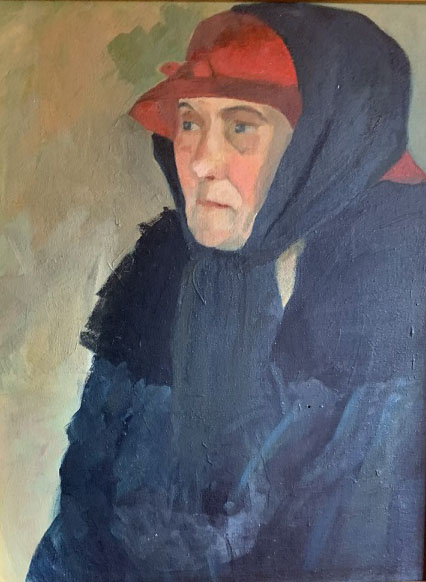 Self-portrait, Alice Speed Stoll (ca. 1985?). Oil on panel, 16" x 24". Private Collection.
I had the opportunity of asking several Speed family members—cousins who knew Alice Speed Stoll well—about the family version of her "kidnaping." "We were always taught," said one carefully, "that she was in on it." "I never heard that!" her sister declared. They agreed, however, that in later years whenever anyone had the temerity to ask her about being kidnapped, Alice Speed Stoll would freeze out the questioner by sweeping 180 degrees; effective despite her petiteness.
At her death in 1996 Alice Speed Stoll bequeathed more than $50 million to the J.B. Speed Art Museum in Louisville founded by her grandfather.
All That Money, by Steven Key Meyers
Smash-and-Grab Press revised edition 2021, paper, 168 pp., ISBN 978-1-7368333-0-8; ebook 978-1-7368333-1-5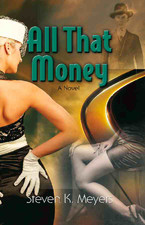 © Copyright 2017, 2021 Steven Key Meyers All Rights Reserved